Effective office cleaning services entail more than merely making the workspace look attractive and welcoming to visitors, customers, and employees. It's about creating an environment that promotes employee health rather than contributing to their health-related issues. Cleaning for health involves not only the main areas of concern — kitchens, bathrooms, and shared surfaces such as tabletops — but it focuses on cleaning those more challenging surfaces as well, such as blind washing, carpet cleaning, and upholstery cleaning.
Here are a few questions that you can ask yourself when considering companies for carpet and blinds cleaning, as well as industrial cleaning for furniture and upholstery:
Does your Cleaning Service Specialize in Cleaning Functions?
An effective office cleaning services company is one that operates in accordance with ManageMen's Operating System 1 (OS1) standards. This comprehensive approach to green cleaning focuses on cleaning with health first in mind and not merely cleaning only for appearance.
What helps to set OS1-compliant green cleaning companies apart from their competitors is that they have custodial specialists who are trained and certified to perform specific systematic cleaning functions. For example, an OS1 vacuum specialist is someone who specializes in cleaning carpet and hard floors, such as tile and marble. The process of cleaning carpets is very different from cleaning hardwood flooring — which also differs greatly from the processes required to clean marble, tile, or linoleum. Furthermore, some of the procedures and chemicals used by many carpet cleaners can actually damage and wear out your carpet more quickly.
Considering that RemodelingExpense.com says the average cost for putting in a new carpet in Orlando can range from $21,000 to $25,000 for installation and materials for basic carpeting to upwards of $32,000 to $35,500 for higher end carpeting — not including the costs of removing old flooring — for 10,000 square feet of office space, new carpeting is a serious investment for your facility. By partnering with office cleaning services experts who specialize in cleaning specific types of flooring, it helps you to extend the life of your floors to protect and help you get the best return on your flooring investment.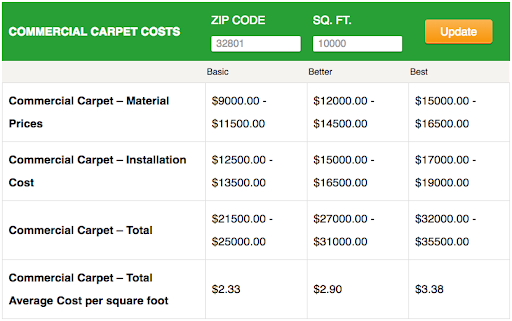 Caption: This is a screenshot of the commercial carpet costs calculator from RemodelingExpense.com using an Orlando area zip code.
Even drapes and blinds cleaning can be a significant concern due to the cost of replacing the materials should they become damaged. According to the 2017 National Building Cost Manual from the Craftsman Book Company, the average cost of drapes can range from $22.90 to upwards of $84.50 per square yard depending on the length and quality of the materials used.
What Types of Chemicals and Cleaning Procedures Will Be Used?
When it comes to carpet and blinds cleaning, there are a set of processes and procedures that should be followed to make the service most effective while also protecting your flooring and other materials and surfaces. These processes should include using environmentally-conscious green cleaning and finishing products. Not only does this method help to protect the environment, but it also helps to create a healthier environment inside your facility for your employees as well.
At Pro Clean, our team uses Stearns' green cleaning product line, which includes a variety of products that can disinfect and clean many types of surfaces.
In addition to adhering to OS1 cleaning standards, we also abide by ISSA's Cleaning Industry Management Standard (CIMS) and CIMS Green Building (CIMS-GB) certification standards. Pro Clean was the first company in Florida to earn the CIMS-GB certification.
Do You Know All Costs Up Front of the Office Cleaning Services?
An issue that many facility and office managers run into when choosing an office cleaning services provider is finding one that is honest and upfront about their costs from the get-go. A common (and dishonest) under-handed practice employed by some companies is to lowball the initial quote to gain your business and then add a variety of hidden/previously undisclosed charges to the bill.
When you partner with Pro Clean, you never have to guess what the "real" costs will be because you'll know what they are upfront. Before our office cleaning services experts get to work, we will perform an in-person walkthrough to get the most information to provide an accurate quote, which includes a complete and detailed breakdown of the estimated services.
Is the Office Cleaning Services Company Reputable & Reliant?
Don't entrust the health of your employees and your facility cleaning services to just any industrial cleaning company or carpet cleaning service. Choose a company that is known for its expertise and years of service in the local industry.
Since 1989, Pro Clean has been serving the greater Orlando and Tampa Bay areas of central Florida. We are happy to share clients' experiences and testimonials about partnering with our team of cleaning experts. If you have any questions about green cleaning services for upholstery, carpeting and blinds cleaning, we're here and happy to help.
To learn more about the benefits of green cleaning as an alternative to conventional office cleaning services, be sure to check out our complimentary guide by clicking on the link below.